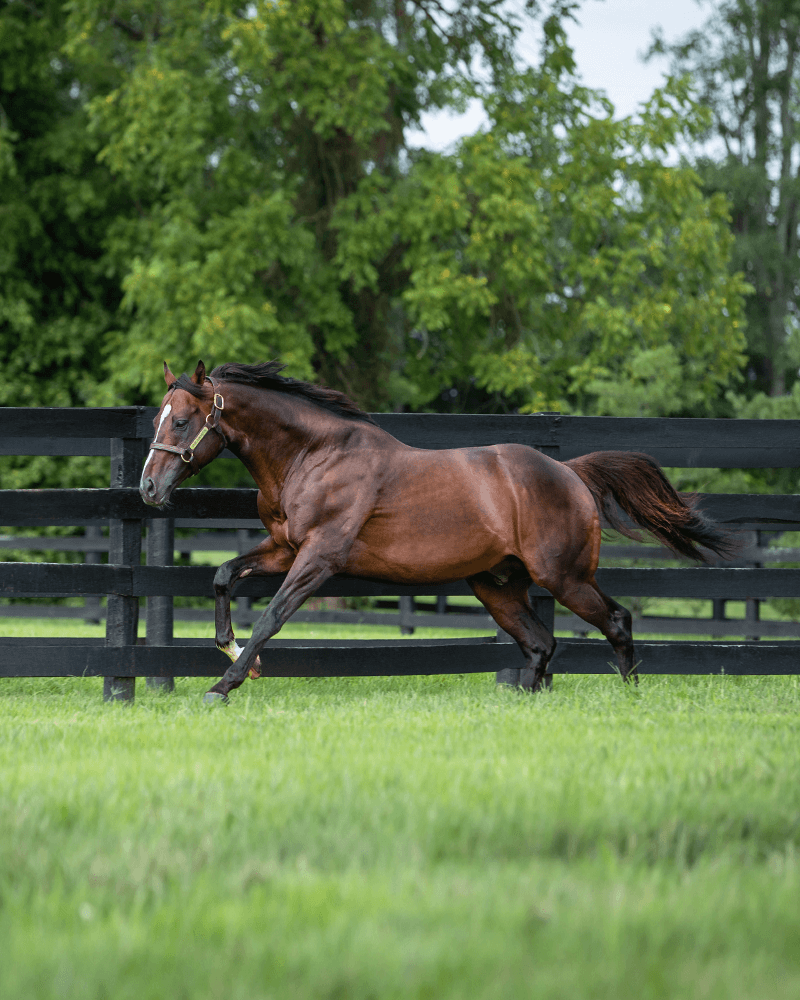 Good Samaritan
Harlan's Holiday - Pull Dancer, by Pulpit
The Last Great Son of Harlan's Holiday
2023 racing led by SECRET MONEY

, winner of the Music City S.

(

G3

)

, placed in the Lake George S. (G3) and winner of a Keeneland MdSpWt and a Churchill allowance; YAHSHUA (CHI). winner of the Clasico Dos Mil Guineas (G1) & ENTERA GOOD (CHI), Grade 3 winner in Chile; CAN GROUP, winner of the Bourbon S. (G2) and a Kentucky Downs MdSpWt; ITAMUT, winner of the Clasico Familia Fernandez (PAN-G2); Sabalenka, runner-up in the $1-million Dueling Grounds Oaks and placed in the Christiana S.; Good Runner (CHI), G1-placed in Chile; Nice Neighbor, second in the $100,000 Oklahoma Classic Distaff Sprint; 2YO Bonne Chance, third in the Bertram F. Bongard S. and 5-length MdSpWt winner at Saratoga; 2YO filly Zo Lee, 2 1/2-length MdSpWt winner at Colonial Downs; etc.
First-crop 2YOs include GOOD SAM, winner of the Tempted S.; RIVZONAROLL, winner of the Sun Power S.; Nice Neighbor, runner-up in the Slide Show S.; Coffee Caliente, placed in the Shakopee Juvenile S.; MdSpWt winners at Kentucky Downs, Good Heart and Sabalenka; etc. 2YOs sold for up to $300,000
G2-winning millionaire on dirt and turf, at 2, 3, and 4. Won or placed in 8 Graded stakes races and retired with earnings of $1,309,450
4

¾

-length winner of the Jim Dandy S. (G2) in his first start on the dirt, defeating winners of the Kentucky Derby (G1), Preakness (G1), and Stephen Foster H. (G1)
HARLAN'S HOLIDAY is responsible for arguably one of the hottest sire lines currently with Into Mischief
Harlan's Holiday and his sons have shown an affinity for mares by a wide variety of Mr. Prospector line stallions. Particularly strong has been the cross with the Forty Niner, with Distorted Humor daughters at the forefront. The cross with mares by Gone West and his sons has been a prolific one with Speightstown, Elusive Quality, Grand Slam, Mr. Greeley and Proud Citizen all featuring. The Fappiano branch of Mr. Prospector has done well, including through Unbridled and Unbridled's Song, Empire Maker (sire of Pioneerof the Nile), Broken Vow, Victory Gallop (by Cryptoclearance, grandsire of Candy Ride) and Quiet American (grandsire of Midnight Lute). Also successful are mares descending from Mr. Prospector through Kingmambo and his son, Lemon Drop Kid; Seeking the Gold; Carson City; Street Cry and Street Sense; and Thunder Gulch. From the Northern Dancer line we can note success with mares from the Danzig branch, including via Danehill, Langfuhr and Hard Spun. The cross over Relaunch line mares has been a G1-producing one via daughters of Honour and Glory, with Tiznow and Skywalker branches also working here. The cross with Halo through Saint Ballado and Southern Halo (sire of More Than Ready) has done well. There is a HH G1W from a Wavering Monarch line mare, and that line would be interesting via Maria's Mon and Super Saver, who gives a particularly intriguing mating. – Alan Porter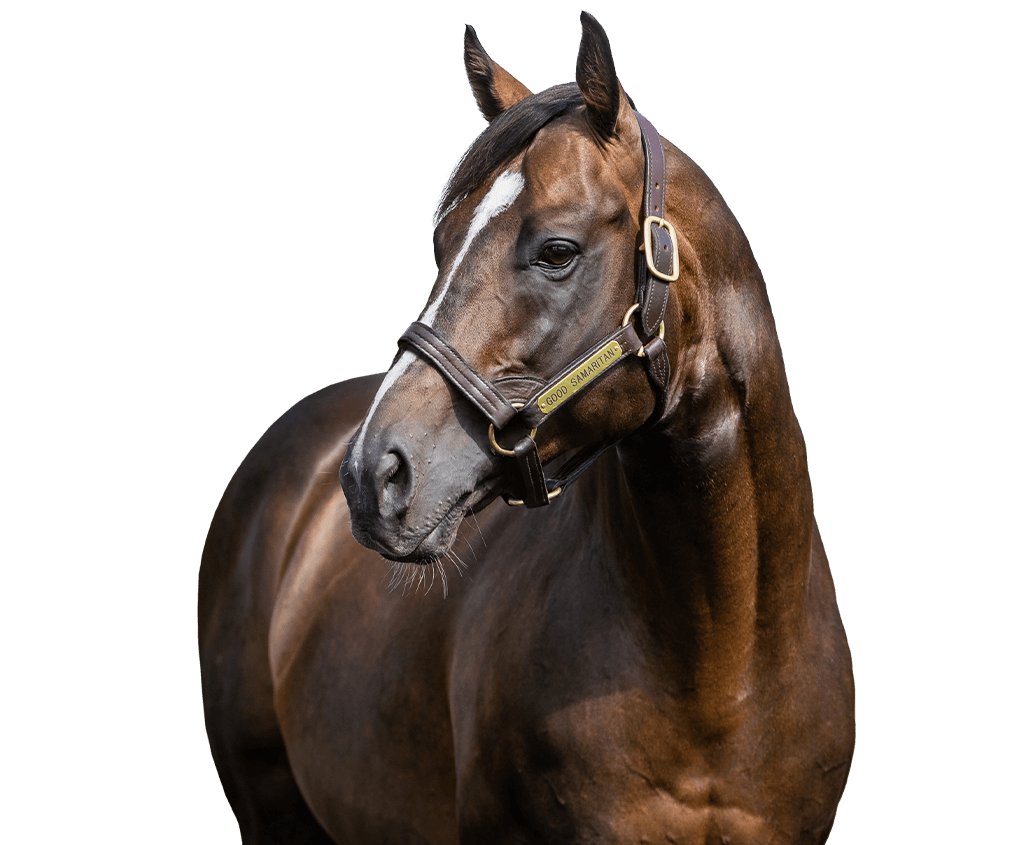 | Age | Starts | 1st | 2nd | 3rd | Earned |
| --- | --- | --- | --- | --- | --- |
| 2 | 3 | 2 (1) | 0 | 1 (1) | $230,616 |
| 3 | 7 | 1 (1) | 3 (3) | 0 | $720,500 |
| 4 | 5 | 1 (1) | 0 | 1 (1) | $358,334 |
| Totals | 15 | 4 (3) | 3 (3) | 2 (2) | $1,309,450 |
Won at 2
Summer S. (G2) at Woodbine (8f, T, defeating Conquest Farenheit, Channel Maker, Tiz A Slam, Harlan's Harmony, Conquest Sure Shot, The Craic).
A maiden special weight at Saratoga (8.5f, T, career debut, defeating Ticonderoga, Kiss The Toad, Harlan's Hunch, J. S. Choice, Formula One, Summer Causeway, Menacing Dennis, Concatulations, Cairn).
3rd at 2
Breeders' Cup Juvenile Turf (G1) at Santa Anita (8f, T, to Oscar Performance, Lancaster Bomber, by less than 1 1/2 lengths combined, defeating Ticonderoga, Big Score, Make You Look, Channel Maker, Keep Quiet (FR), Intelligence Cross, Wellabled, Bowies Hero, Favorable Outcome, J. S. Choice, Rodaini).
Won at 3
Jim Dandy S. (G2) at Saratoga (9f, D, defeating Giuseppe The Great, Always Dreaming, Pavel, Cloud Computing).
2nd at 3
Clark H. (G1)at Churchill (9f, D, to Seeking the Soul by 1/2 length, defeating Hoppertunity, Diversify, The Player, Destin, Goats Town, Mo Tom, Honorable Duty).
American Turf S. (G2) at Churchill (8.5f, T, to Arklow by 1 length, defeating Big Score, Conquest Farenheit, Parlor, Ritzy A.P., Made You Look, Holiday Stone, Kitten's Cat, Oscar Performance).
Pennine Ridge S. (G3) at Belmont (8.5f, T, to Oscar Performance by 1 1/2 lengths, defeating Ticonderoga, Bowies Hero, Muggsamatic, Makarios, Secretary At War).
Won at 4
New Orleans H. (G2)at Fair Grounds (9f, D, defeating Hollywood Handsome, Scuba, Han Sense, The Player).
3rd at 4
Alysheba S. (G2) at Churchill (8.5f, D, to Backyard Heaven, Hawaakom, defeating Hoppertunity, Always Dreaming, Giuseppe the Great, Hence).